the Spring is back in my step!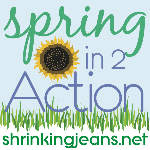 Not to brag too loudly, but this has been a great week for me!!  I have been active every day – mostly walking and (uggghhhh) pushups, but I've also gotten in some bike riding.  It's been lovely outside, my allergies seem to be under control finally (or perhaps whatever was pollenating and giving me such a terrible time is done now; I'm not dropping my meds to find out!), and I've really been taking advantage of it!
Our family is trying to make April a near-car-free month, so we're all getting lots of incidental exercise.  My husband rides his bike every single stinking day to work and picks up the post and any occasional items we need from the store.  I'm taking public transport into Mons for my class two days a week and walking home (not enough time on Mondays and Tuesdays to get there on time by bike or by foot), and on Thursdays I'm doing the full roundtrip by bike.  Today I had to take Harry's glasses in for repair at the local mall; while there I stocked up on fruit, veg, and tea and carried it all home on my bike.  I'm feeling particularly noble
Nutrition-wise, I've been so clean I squeak.  Well, except for the pizza Saturday night – but that was only two pieces of a goat cheese pizza, which I allotted for, enjoyed, and pushed away from before I was full.
I noticed early on in the week that, although I was eating *clean*, I was ravenous by suppertime, which was setting me up for the snack battle in the evening.  I spent one day tracking calories, trying to figure out where I was cheating myself during the day to cause this.  One day of calorie counting was all it took to remind me how much I HATE calorie counting!  It makes me nuts, makes me make stupid choices (ie. not having a banana so I have the extra calories to play around with later *just in case* I get hungry for a snack).  But I still needed to track.  On a whim I checked and my account at Meight Matchers had not yet expired, so I got their app and started tracking that way.
Why is it that counting calories makes me crazy, but that counting points makes me feel in control?  I'm pretty sure it's because I don't feel the need to weigh the tomato I put on my salad so I can account for the calories.  Or the lettuce.  And because I can have the banana I want without feeling it's costing me too much.  I do realize, of course, that there's nothing magical in points.  But somehow counting them, especially on the new plan, feels right and rational, as opposed to the way calorie counting makes me feel — ie. obsessive.
I think I've got the evening munchies tamed now.  I wasn't fueling enough throughout the day, as I thought, and by evening my body was demanding the extra it needed.  Now that I'm spreading it all out a bit better, the evening crazies have disappeared.
the numbers game:
starting weight: 156.5
last week: 153.0
this week: 150.5
this week's loss: 2.5 pounds!!
overall loss: 6 pounds!!